We are a not-for- profit community based Preschool catering for children aged from 3 to 5 years old, and have been operating in Port Macquarie, in partnership with parents and the community since 1973.
Acknowledgement Of Country
We acknowledge the traditional custodians of this land on which we play and learn... the Birapi people. We pay our respects to Elders past, present and emerging.
At Port Macquarie Community Preschool we have strong links with the Birpai community! We acknowledge and value the rich cultural history, heritage and traditions, of the Birpai people and are committed to walking the journey towards reconciliation.
Our Learning Program
We believe that children learn through play. We encourage our preschool children to discover, create, explore and grow in our nurturing and natural learning environment. We support children's progress towards achieving the learning outcomes of the Early Years Learning Framework, with dynamic individualised learning programs. Educators focus on developing the skills that children need to become lifelong learners. We provide an inquiry-based learning environment, where educators are co-creators with the children, as we discover and investigate the world around us. In preparation for the first year of formal schooling, your child will be exposed to the concepts and skills necessary to succeed.
Our Services
We are licensed for 85 children per day, and operate from two premises – Munster Street and The Annex. Both services incorporate large, natural outdoor play areas with grass, trees and vegetation for the children to explore and enjoy. In each of our Preschool rooms, we employ a university-qualified Early Childhood Teacher and our educator-to- child ratio is always maintained above the National Quality Framework's minimum level.
We value the importance of highly qualified and committed educators, who constantly reflect and improve their practices, to provide the best possible learning environment for our enrolled children.
Preschool hours are from 8:15am to 3:45pm each day and extended hours are available at a small additional fee from 8am – 4pm.
Our Fees
Port Macquarie Community Preschool currently has NSW State Government Covid-19 Free Preschool Fee Funding, for all enrolled children. For more specific information on fees, please click on the How To Enrol tab in the main menu.
Our Transportation Program
We believe that having access to quality Early Childhood Education and Care, can have substantial beneficial effects on overall child development and educational success for children. To better support children's ability to access to our services, we have recently embarked on a Preschool transportation program. We provide a fully supervised, daily pick-up and drop-off service for families. The service can be accessed on a permanent or casual booking basis.
Our Reconciliation Action Plan (RAP)
Port Macquarie Community Preschool has a Reconciliation Action Plan (RAP) endorsed by Narragunnawali and Reconciliation Australia. The RAP, is an acknowledgment of Port Macquarie Community Preschool's commitment to reconciliation.
The RAP document helps us support the reconciliation movement and includes events and actions to continuously improve our cultural competence. We are committed to building strong and respectful relationships with the local Birpai Aboriginal  and Torres Strait Islander local communities.
The RAP guides us in the process of respectful acknowledgement and developing culturally appropriate policies and practices.
Embedding an Indigenous perspective into the learning program, is a strong focus of the curriculum.
Children enrolled at Port Macquarie Community Preschool will develop a deeper understanding of, and respect for, Aboriginal and Torres Strait Islander histories, cultures and languages.
The Beach Kinder Program
Making the most of our beautiful coastal environment, we facilitate a Beach Kinder program for children from both our Munster Street and Annex services, in their year before school. Supervised by two qualified and experienced educators, the children participate in a variety of nature and  investigative experiences. The Beach Program endeavours to utilise our local beaches as learning environments, to foster a love of active learning. Enriching the curriculum beyond the confines of the Preschool.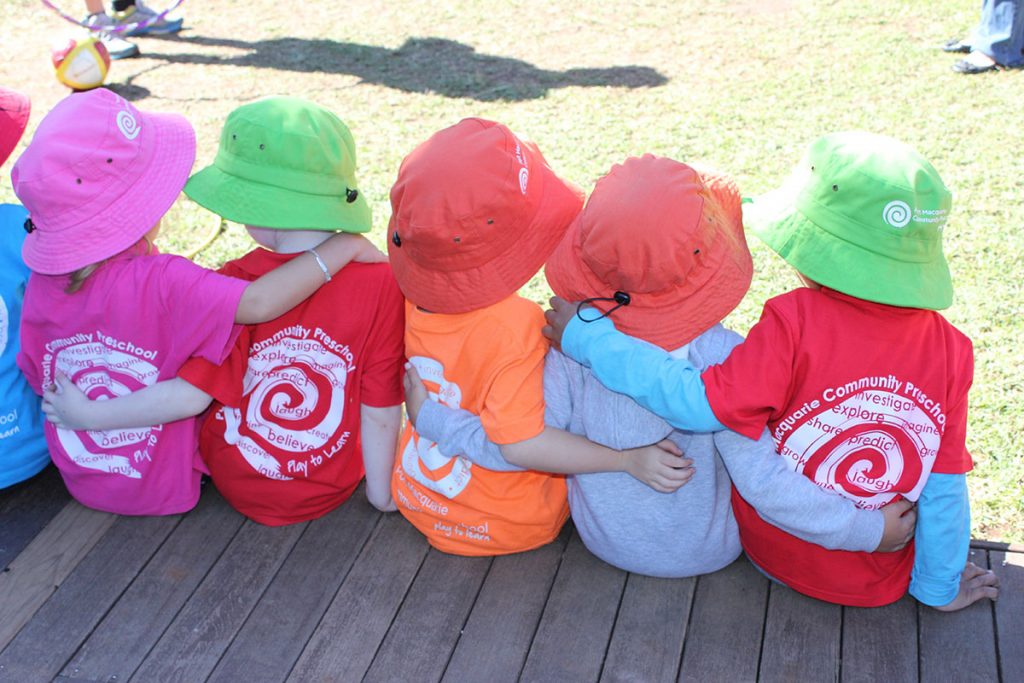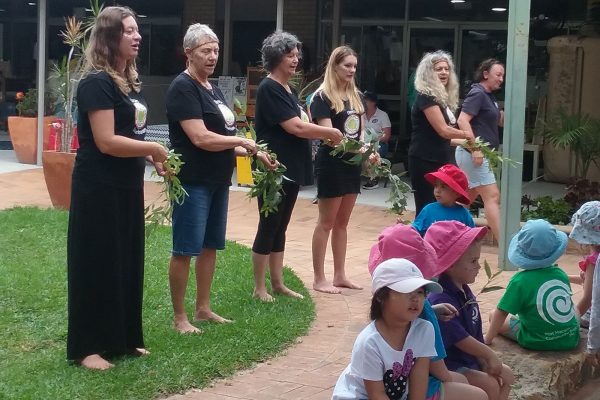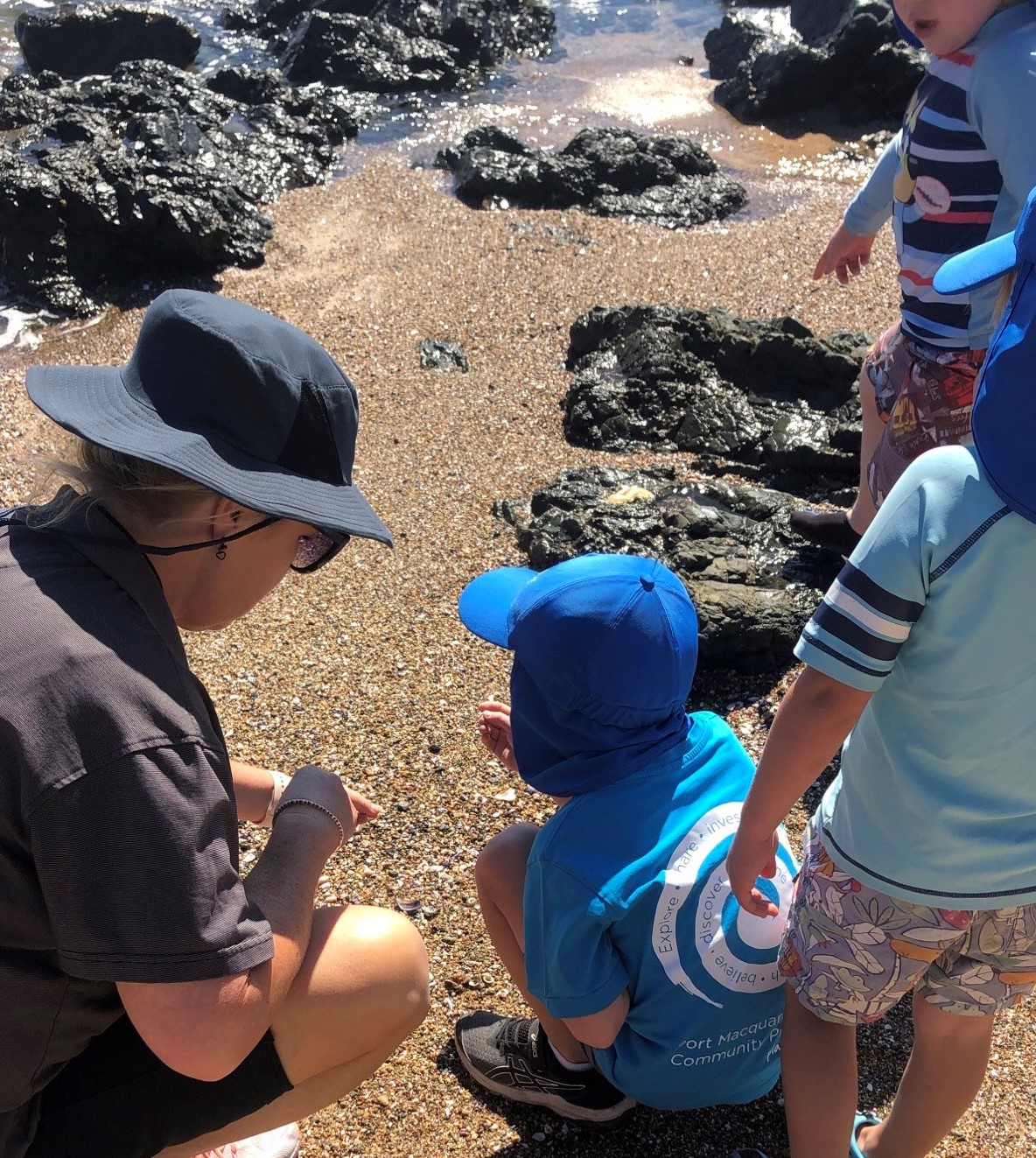 Exceeding the National Quality Standards!
Port Macquarie Community Preschool has been rated as Exceeding the National Quality Standards under the National Quality Framework. The National Quality Framework gives significant recognition to the importance of the quality of experiences for children in their early years to ensure their present and future health, development and wellbeing.
Exceeding practice is:
​Embedded in service operations (Theme 1).
Practice is embedded in service operations when it occurs consistently, frequently and intentionally as part of an ongoing process that is understood and implemented by all educators across all aspects of the program.
Informed by critical reflection (Theme 2).
Critical reflection involves a deep level of regular and ongoing analysis, questioning and thinking that goes beyond evaluation and review. Critical reflection informs practice when the continuous reflection of all educators, individually and together, influences decision-making and drives continuous quality improvement.
Shaped by meaningful engagement with families and/or the community (Theme 3).
Practice is shaped by meaningful engagement with families and/or the community when educators actively seek input, guidance and feedback from children, families and the community. Meaningful engagement with families and/or the community helps to shift thinking, shape ongoing practice and foster a culture of inclusiveness and sense of belonging for all.
These themes are explored further within the Guide to the NQF.
To be rated Exceeding NQS overall, all Quality Areas must be at least Meeting NQS, and four or more Quality Areas must be Exceeding NQS, with at least two of these being Quality Areas 1, 5, 6 or 7.
The higher level of quality is assessed against each of the 15 NQS Standards using the three Exceeding themes.
Port Macquarie Community Preschool Philosophy
At Port Macquarie Community Preschool, we believe in acknowledging the traditional land owners of the land on which we play and learn, the Birpai people. We are committed to working in partnership with the local Birpai Aboriginal community, to bring forth reconciliation and respect.
We believe that children learn through play. We provide an environment where children are encouraged to freely explore their surroundings. We believe that children are successful, competent and capable learners. We will support children to develop independence, resilience and an enjoyment of learning. Children are encouraged to strive for their best and the curriculum is tailored to meet the needs of each individual child.
We provide a learning environment which enables children to be ready for their transition to school and where children, families and staff have a strong sense of belonging.
We celebrate diversity and regardless of cultural diversity or ability, each child, family and educator are valued promoting a sense of belonging for everyone.  We encourage children, families and educators to display nurturing, peaceful behaviours and actively express empathy for one another.
Educators strive to build strong partnerships with families.  Our community includes the children, families, educators and the wider community, with whom we have had strong connections with, since becoming established in 1973. We highly value family and community relationships, they are essential in the continued success and management of the preschool.
We believe in promoting sustainable practices and awareness. Our children are taught to respect and protect our planet and all living things. We are committed to embedding sustainable education and creating a more sustainable preschool.
We value the importance of educators working within the Early Years Learning Framework,engaging in a lively culture of professional inquiry and reflective practice, to enrich knowledge and provide the best possible learning environment for young children.
We are committed to ongoing continuous quality improvement, to achieve best practice outcomes for the children entrusted to our care.
Our philosophy was developed in consultation with staff, families and the Board of Management.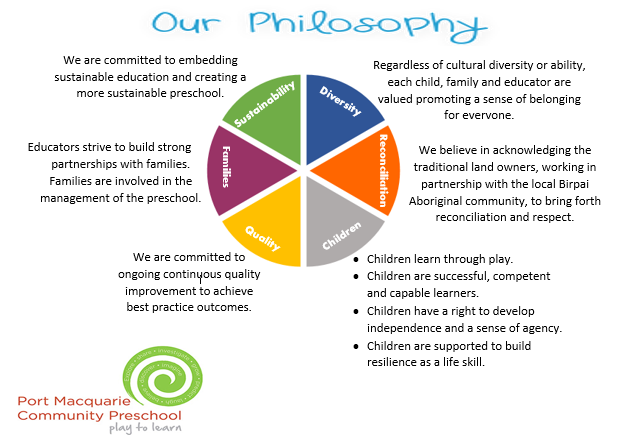 Need more information?
Call our Administration Office today